Ref:
Date:
Location:
photo by:
Ref:
Date:
Location:
photo by:
Winter Recipes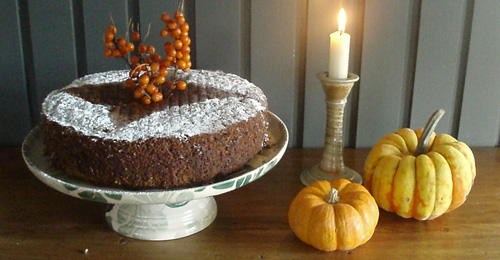 Winter gingerbread: photo Anne Orr
Winter Gingerbread
- pictured above
This is a great cake for winter - warming and luxurious - it keeps really well and is a good to offer guests at Christmas as an alternative to Christmas cake.
Ingredients:
225g/8oz Butter
225g/8oz Dark soft brown sugar
300ml/10 fl oz Milk
225g/8oz Marmalade (Seville or similar)
115g/4oz Raisins
350g/12oz Self Raising Flour
2 level tablespoons Ground Ginger
2 level teaspoons Bicarbonate of Soda
2 level teaspoons Cinnamon
A generous grating of fresh Nutmeg
2 large Eggs - beaten
4 pieces of Preserved Ginger - finely chopped
Preheat the oven to 140C, 275F, Gas mark 1
Butter a 25cm/10 inch cake tin and line the base.
Put the chopped up butter, sugar, milk, marmalade and raisins in a saucepan and heat gently stirring until the butter has melted. Leave to cool.
Combine the flour, bicarbonate of soda and spices in a bowl. Make a well in the centre and add the cooled mixture. Stir gently to a smooth batter, making sure all the flour is incorporated. Stir in the eggs and lastly the chopped ginger.
Pour into the tin and bake for an hour until the centre is firm. Remove from the oven and cool in the tin.
The cake can be decorated if you wish. For example, cut out star shapes and lay on the surface and then dust with icing sugar. Or crystallised fruit would look good on the top.
Store when cold in an airtight tin.
Adapted from a recipe by Hilaire Walden in Sensational Preserves