Ref:
Date:
Location:
photo by:
Ref:
Date:
Location:
photo by:
News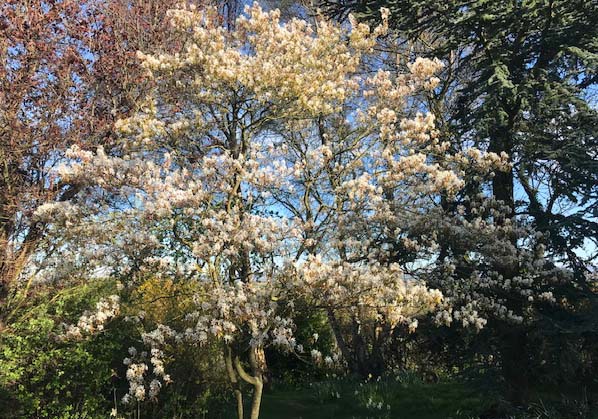 Charlott Cadzow Painting: Cherry Blossom, Spring 2020
DIRLETON NEWS
The following are the most recent reports on meetings and events etc affecting the village
Kirk Sevice for this Sunday and News
-
Click here
Dirleton Primary School's Monthly Newsletter November 2019
Dirleton School Partnership Minute October 25, 2019
Click here
Minute of Dirleton Village Association September 2019 Meeting
Monthly Police Reports covering the Dirleton area
Click here
Dirleton Neighbourhood Watch
Click here
for recent reports
Dirleton Kirk resumes Services from Sunday 20th September
Sunday worship is to resume at Dirleton Kirk at 9.30am on 20th September. Services will take place under such restrictions as to the conduct of public gatherings as may apply.
Wednesday prayers have already resumed, at 10am in the Kirk.
Bookings can be made by phone or email during church office hours (1000-1300) on the Tuesday, Wednesday and Thursday of the week prior to the service. To make a booking for that week's service, please either phone during these hours (01620 892800) or email your request to abbeychurch@abbeychurch.co.uk giving details of the names of the people from your household who wish to attend and one contact telephone number and whether you would like to attend Abbey Church or Dirleton Kirk. Please do not leave phone messages and any emails received before Tuesday at 10.00am cannot be accepted. Bookings will only be taken for that week's service and the process for the following Sunday will commence on the Tuesday of that week.
The Kirk is now open to individual visitors.
Beware of unsolicited packets of seeds in the post!
This message has been received by Dirleton's Nieghbourhood Watch.
Click here
to view
CORONAVIRUS and DART
DART (the Dirleton Area Resilience Team) has a dedicated website of its own where you will find regularly updated information on its activities.
Click here
to access the DART website
Details of the Road Renovations around Kirk Green
This work started on Monday 10th March but completion was halted due to Coronavirus. It restarted early July.
This work relates to the DVA award of £35,000 from the Road's Budget of the North Berwick Coastal Area Partnership for extensive improvements to the straight section of road and parking area leading to the Kirk and Kirk Hall and to deal with the road floodng issues beside Auburn House.
Renovation of Phone Box as a Book Exchange and History Trail
July 2020 - plans are underway to get started on this project as soon as possible. The shelves fo hold books are being made off-site, and discussions are underway to find an alternative home for the children's artwork, so that the interior of the Box can be cleaned and painted. The Local Priority Fund of the Community Council approved a grant of £275 for a history triptych within the phone box. This means the project which is partly funded by Village Voices will now go ahead within Shut down restrictions due to Coronavirus.
In the meantime the Phone Box has been used as an ART Gallery by DART for displaying the artwork of local children.
Planning Applications have been lodged for extensive renovations to Auburn House
(to the right of the Kirk Hall) and for the premises that formerly housed the Dirleton Gallery on Manse Road. There are two extensive set of plans, which can be viewed on the ELC website.
Click here
for access to this section of the council website, and then use these two codes to find the applications: 19/1106/LBC and 19/01106/P. For the DVA 's objection to some aspects of this proposal
Click here
A Further Application has been made for Stabling on Manse Road
in connection with the above.
Change of use of agricultural land for the erection of a stables block, arena with floodlights and roadways for the keeping of horses and associated works | Manse Road Dirleton East Lothian.
Click here
to see the DVA objection.